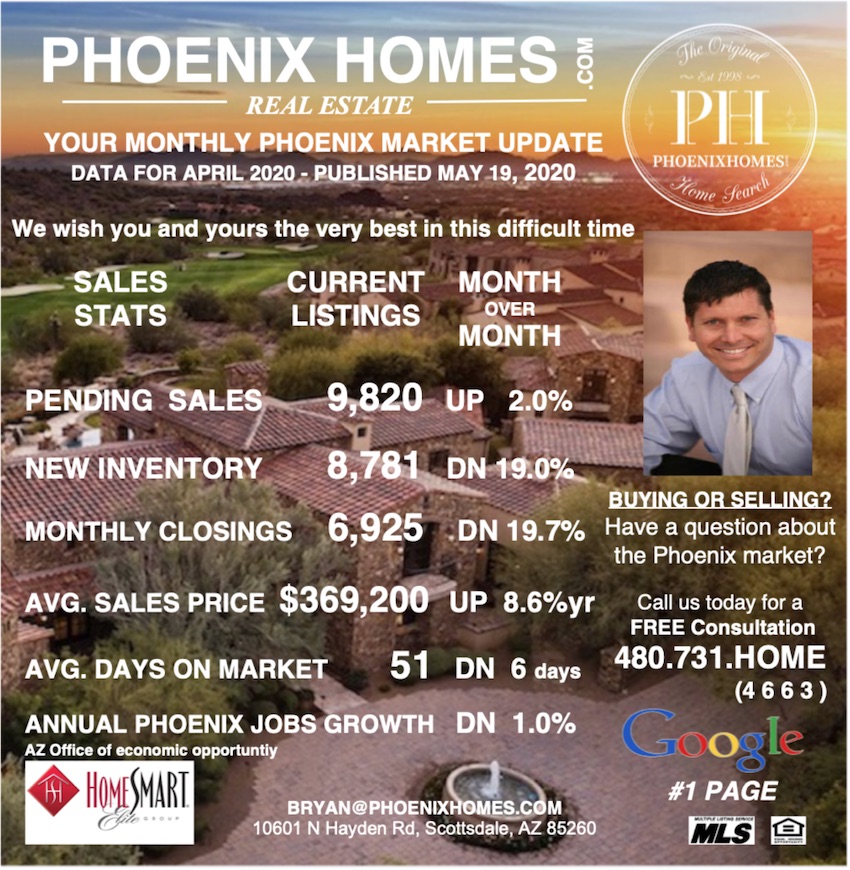 Home Price Expectations
In aFannie Mae survey, 23% of Americans polled think prices will go up in the next 12 months, 34% believe prices will go down and 36% believe prices will stay the same. 7% undecided. Overall price expectations trended down 28%. ARMLS reported a median sales price of $302,500 in March, a $300,000 median for April and is projecting a $290,000 median in May. On the surface, the survey appears warranted. On June 1, when the May closing numbers are published, there will be a rush to judgement. Therein lies the rub. When we view March and April reported prices, we see a 13.2% and a 11.1% increase in our year-over-year median price.
If there's a silver lining to the Covid-19 punch, it's the unsustainable runaway appreciation we'd been seeing has moderated. In the long run, this is a good thing.  As April ended and May progresses, we're seeing the Arizona economy open back up slowly and cautiously.  We will get through this and become stronger because of it.  For any questions or if we can assist you with your next sale or purchase please give us a call.  We are happy to help. 480-731-4663.
#phoenixhomes #realestate #realestateagent #phoenix #phoenixaz #phoenixarizona #homesforsale #realestateinvesting #az #aztagram #arizona #arizonalife #homes #homesweethome #homedecor #homeoffice #homebuyers #homesellers #azlife #azrealtor #azrealestate #relocation #phx #phxaz #azinstagram #realty #realtyexecutives #realestatenews #realestatesales #realestatelife