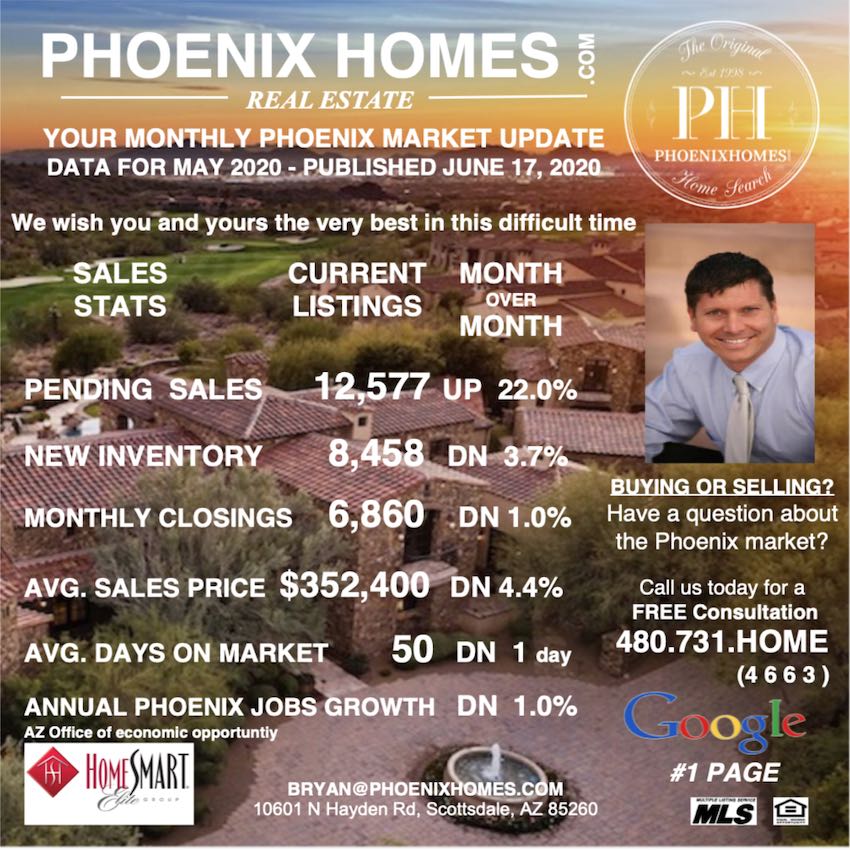 The current number of listings under contract are now at their highest point in 2020, surpassing the high- water mark of March. What this means, simply, is that year-over-year sales gains in June and July are very possible and should not come as a surprise. An unprecedented 30-day drop in contracts followed by an unprecedented 30- day rise and voila, future closings will be back on track. Does this mean Covid-19 was just a large speed bump for housing? That's what the data is telling us right now. But remember, it's 2020, and what it's taught us so far is that anything is possible.
As each listing goes under contract, the contracted price is reported. This is ARMLS proprietary data and is the metric from which the PPI Index is calculated. The $305,000 median sales price reported on April 8 closings
was foreseen by reported pending contracts on March 12 and the $290,000 closing median price on May 20 was accurately forecasted on April 20. Today's forward looking median is $305,000 and by mid-July the median sales price will have recaptured its historical peak. We can summarize the last 3 months of 2020 closing data by saying where we were was not where we were going, and where we are now is not where we're headed. Our strong firstquarter numbers gave way to dismal numbers in April and May, which in turn will give way to robust numbers in June and July.
The Pending Price Index
Last month the STAT mathematical model projected a median sales price for May of $290,000. The May reported median was $295,000. Looking ahead to June, the ARMLS Pending Price Index anticipates the median sales price will increase, projecting a median sales price of $300,000.
We begin June with 7,125 pending contracts: 4,687 UCB listings and 765 CCBS giving us a total of 12,577 residential listings practically under contract. This compares to 12,289 of the same type of listings one year ago. At the beginning of June, the "pending" contracts are 2.3% higher than last year. There were 20 business days in June of 2019 and 22 this year. ARMLS reported 9,313 sales in June of 2019. As stated earlier, it is quite possible the June reported closings this year will meet and quite possibly exceed the 2019 total.