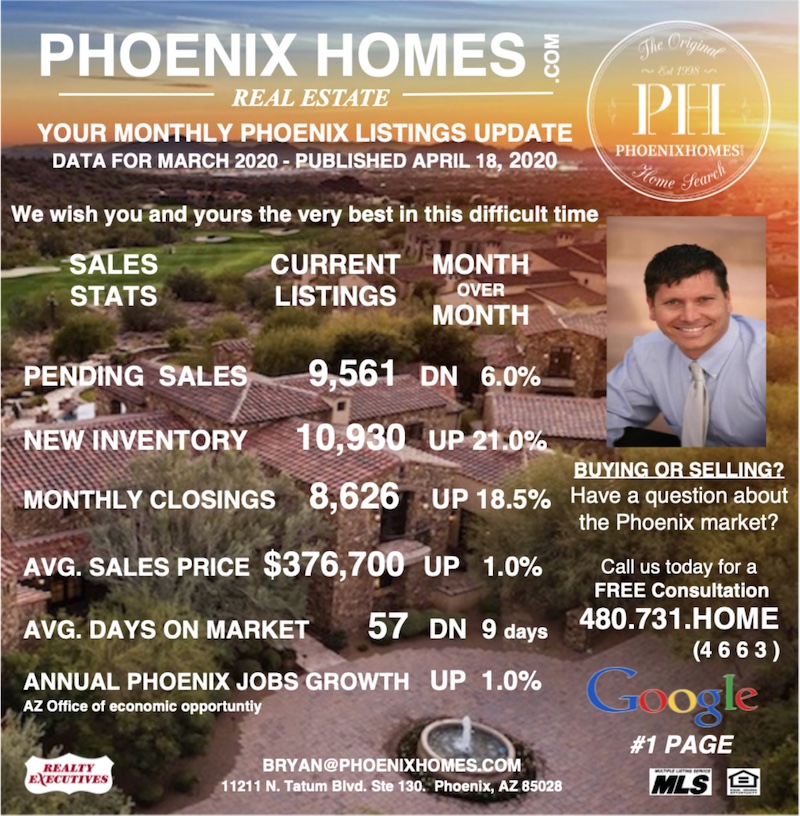 Wherever we are and whatever is happening in our lives, it's human nature to feel as though it has and will always be this way. There's good news, this pandemic, as ugly as it is, is not going to define us.   
Looking in the rearview mirror, ARMLS sales volume for the first quarter was 11.1% higher than last year; median sales price was up 13.3% in March year-over-year; average sales price was up 11.2% year-over-year and the average price per square foot was up 9.3% in Maricopa County year-over-year.
Listings under contract are a leading indicator of future closings. The Volume of Listings Going Under Contract shows a widening gap between 2019 and 2020. Year-over-year sales will be down in April and again in May. The biggest challenge facing the Covid-19 analysis is trying to anticipate the drop in sales volume over the next couple of months.  
We've seen several down real estate markets in Arizona, it's practically our birthright, but this 
one is unique. Unlike the others, this one will end sooner rather than later.  Be ready when that happens and it will happen.  Start your research, create a home search and as we get closer to putting this all behind us, get yourself prequalified.  Give a call, we can help. 480-731-HOME (4663)
#coronavirus #staysafe #covid19 #phoenixhomes #realestate #realestateagent #phoenix #phoenixaz #phoenixarizona #homesforsale #realestateinvesting #az #aztagram #arizona #arizonalife #homes #homesweethome #homedecor #homeoffice #homebuyers #homesellers #azlife #azrealtor #azrealestate #relocation