Out of the 125 most popular metro areas found around the U.S., Phoenix was named one of the best places to live.  In order to make this list the metro area had to be desirable, a good value for residents, have a great quality of life and strong job growth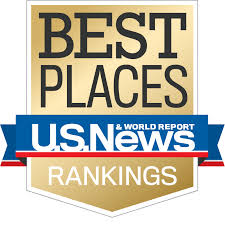 Phoenix is listed at #19 for best places to live and #34 for best places to retire.  Nicknamed the "Valley of the Sun," the Greater Phoenix area sees more sunshine than any other metro area in the country. That in and of itself is enough to entice people to lay down roots, but Arizona's capital also features a desirable combination of a thriving job market, a relatively low cost of living and plenty of ways to enjoy the nice weather.
2018 Best Places to Live Methodology
U.S. News & World Report's Best Places to Live rankings are intended to help readers make the most informed decision when choosing where to settle down. The metro areas included in the rankings are evaluated using data from trusted sources like the United States Census Bureau, the Federal Bureau of Investigation, the Department of Labor and U.S. News' own internal resources. This data was categorized into the five indexes listed below and then evaluated using a methodology determined by Americans' preferences. The percent weighting for each index follows the answers from a public survey in which people from across the country voted for what they believed was the most important thing to consider when thinking about moving.
2018 Best Places to Retire Methodology
The Best Places to Retire rankings are intended to help people narrow their choices of where to live in retirement. Without question, individual preferences and family proximity weigh heavily in choosing where to retire. But there are similarities in what retirees and future retirees want, regardless of where they live today. In preparing the 2018 Best Places to Retire rankings we surveyed pre-retirees (age 45–59) and retirement-age individuals (age 60+) for guidance on what matters most to them. These groups are our target audiences, and our goal is to provide them with an approachable, useful place to start planning for retirement.U.S. News evaluated 100 of the largest metropolitan areas in the U.S. (including Puerto Rico) for the 2018 Best Places to Retire rankings. Smaller cities and regions, including some that are popular with retirees, were not included in the analysis. The rankings are based on overall retirement scores that we calculated for each city included in the analysis. The overall retirement score is a weighted average of six indexes. The overall retirement score and each index score was calculated on a 10.0 scale based on the data sources and scoring methodology described in more detail below. The six indexes are: Housing Affordability, Happiness, Desirability, Retiree Taxes, Job Market and Healthcare Quality. The weights for each index were determined based on two online surveys conducted by U.S. News of pre-retirees (age 45–59) and retirement-age individuals (age 60+) during the first week of September 2017. Respondents were asked to indicate the attributes of a retirement destination that are most important to them, choosing from a predefined list of options. 841 responses were collected. Based on the survey scoring, U.S. News assigned the following weights to the indexes in compiling the overall retirement score for each city:

U.S. News and World Report 2017
WOULD YOU LIKE TO REQUEST FURTHER INFORMATION?
If so, please complete the form below and one of our associates will be in touch with you shortly.  We look forward to taking the time to answer all of your questions.
Sorry we are experiencing system issues. Please try again.